New - Plastic Scrapers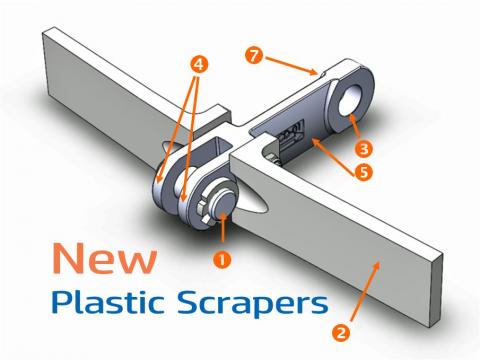 Now available: Forked chain with plastic scrapers
As a result of frequent demands from the market, we have expanded our range of conveyor chains with the forked chain with plastic scrapers. These scrapers are compatible with the known versions in the market. However, we have provided our own design with numerous improvements.
We close the pins with full circlips, which are stronger and easier to replace. The circlips are even available in stainless steel. The concept also gives us the possibility to work with other pen types, such as headed pins.
Our own designed plastic scrapers are thicker and stronger, which results in a longer lifetime. They are food compatible and 100% interchangeable with the current versions on the market.
The fork of the chain links is parallel milled for a uniform power transfer to the sprocket wheel.
The hardness determines the life time. That's why the links are fully hardened and not only the borings. The forks on which the sprockets transfer the power are therefore also hardened.
The scrapers are available from stock for trough widths up to 600 mm and are fully made to order.
You can find more information about this new product in this brochure, or contact us.
We are happy to be at your disposal.